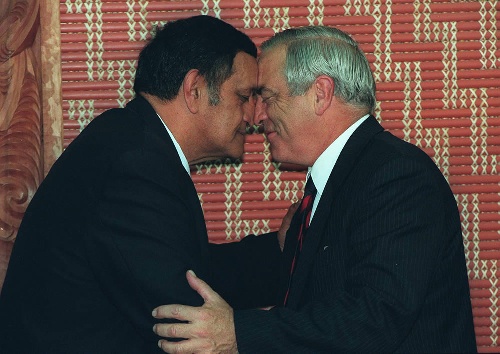 Charles Crofts (Negotiator for Ngāi Tahu) and Doug Graham (Minister in Charge of Treaty of Waitangi negotiations) hongi after signing the Ngāi Tahu settlement, 24 September 1997.
This Image Appears In 1 Article:
Credit
Dominion Post
Permission of the Dominion Post must be obtained before any re-use of this image.
How to cite this page
'Ngai Tahu treaty settlement, 1997', URL: http://www.nzhistory.net.nz/media/photo/ngai-tahu-settlement, (Ministry for Culture and Heritage), updated 7-Jul-2014
RELATED TO NGAI TAHU TREATY SETTLEMENT, 1997
Biographies
See 19 more related biographies...