History of New Zealand painting
First World War by the numbers
TODAY IN HISTORY
1963

DC-3 crashes in Kaimai Range
All 23 passengers and crew were killed in what is still New Zealand's worst internal civil aviation accident. Helicopters were used for the first time in the search and rescue operation that followed.
KIWI OF THE WEEK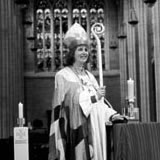 Penny Jamieson
1942 - ?
English-born New Zealander Penny Jamieson was the first woman in the world to be ordained a diocesan bishop of the Anglican Church
The First World War had a seismic impact on New Zealand, reshaping the country's perception of itself and its place in the world.
Women's Suffrage Petition
The 1893 Women's suffrage petition — signed by more than 25,000 women, about a fifth of the enture adult European female population — helped pave the way for the passage of New Zealand's world-leading Electoral Act in September 1893.
See the digitised version of the petition
Memorials Register
Find exact locations and further information for more than 900 memorials throughout New Zealand.
Explore the memorials