TODAY IN HISTORY
1985

Keri Hulme's Bone people wins Booker Prize
By 1985 Keri Hulme had won several New Zealand awards for her writing. But the decision to award her first novel, The bone people, the Booker Prize surprised literary critics, bookies and Hulme alike. 
KIWI OF THE WEEK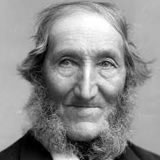 Samuel Parnell
19 Feb 1810 - 17 Dec 1890
Labour Day, a public holiday in New Zealand since 1900, is a suitable occasion to pay tribute to Samuel Parnell, who achieved fame as the founder of the eight-hour working day in New Zealand.
The First World War had a seismic impact on New Zealand, reshaping the country's perception of itself and its place in the world.
Women's Suffrage Petition
The 1893 Women's suffrage petition — signed by more than 25,000 women, about a fifth of the enture adult European female population — helped pave the way for the passage of New Zealand's world-leading Electoral Act in September 1893.
See the digitised version of the petition
Memorials Register
Find exact locations and further information for more than 900 memorials throughout New Zealand.
Explore the memorials