a history of New Zealand in 100 places
explore the history of
New Zealand's




culture

and

society

,


politics

and

government

,
and the

impact of war
TODAY IN HISTORY
1865

Missionary Carl Völkner killed at Ōpotiki
Völkner's killers maintained that he had been acting as a government agent. In the aftermath land was confiscated and allocated to military settlers.
KIWI OF THE WEEK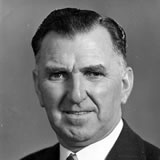 Sidney Holland
18 Oct 1893 - 5 Aug 1961
Holland became PM in 1949. A year later he abolished the Legislative Council, and in 1951, after winning the Waterfront Dispute, he increased his majority in a snap election.
The First World War had a seismic impact on New Zealand, reshaping the country's perception of itself and its place in the world.
Women's Suffrage Petition
The 1893 Women's suffrage petition — signed by more than 25,000 women, about a fifth of the enture adult European female population — helped pave the way for the passage of New Zealand's world-leading Electoral Act in September 1893.
See the digitised version of the petition
Memorials Register
Find exact locations and further information for more than 900 memorials throughout New Zealand.
Explore the memorials