First World War by the numbers
History of New Zealand painting
TODAY IN HISTORY
1965

Cook Islands achieve self-government
First included within the boundaries of New Zealand in 1901, the islands were governed by a Resident Commissioner until 1946. When they achieved self-government, Cook Islanders remained New Zealand citizens.
1923

Ōtira rail tunnel opened
The 8.5-km Ōtira tunnel, which pierced the Southern Alps and linked Christchurch with Greymouth, was formally opened by Prime Minister William Massey. At the time it was the longest tunnel in the southern hemisphere and the British Empire, and the sixth-longest in the world.
KIWI OF THE WEEK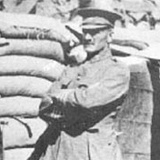 William Malone
24 Jan 1859 - 8 Aug 1915
William George Malone, commander of the Wellington Battalion, was one of New Zealand's outstanding soldiers of the Gallipoli campaign.
The First World War had a seismic impact on New Zealand, reshaping the country's perception of itself and its place in the world.
Women's Suffrage Petition
The 1893 Women's suffrage petition — signed by more than 25,000 women, about a fifth of the enture adult European female population — helped pave the way for the passage of New Zealand's world-leading Electoral Act in September 1893.
See the digitised version of the petition
Memorials Register
Find exact locations and further information for more than 900 memorials throughout New Zealand.
Explore the memorials