First World War by the numbers
The North Island main trunk line
TODAY IN HISTORY
1920

Fingerprints help convict murderer
In the Auckland Supreme Court, Dennis Gunn was convicted of the murder of a postmaster and sentenced to death. In what was claimed to be a world first for a capital crime, Gunn's conviction was based almost entirely on fingerprint evidence.
KIWI OF THE WEEK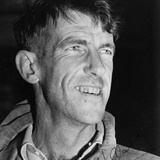 Edmund Hillary
20 Jul 1919 - 11 Jan 2008
Edmund Hillary, climbing with Sherpa Tenzing Norgay, was the first person to reach the summit of Mt Everest – the world's highest mountain.
The First World War had a seismic impact on New Zealand, reshaping the country's perception of itself and its place in the world.
Women's Suffrage Petition
The 1893 Women's suffrage petition — signed by more than 25,000 women, about a fifth of the enture adult European female population — helped pave the way for the passage of New Zealand's world-leading Electoral Act in September 1893.
See the digitised version of the petition
Memorials Register
Find exact locations and further information for more than 900 memorials throughout New Zealand.
Explore the memorials