a history of New Zealand in 100 places
TODAY IN HISTORY
1863

Sinking of HMS Orpheus - NZ's worst shipwreck
The Royal Navy steam corvette HMS Orpheus was wrecked on the treacherous Manukau Harbour bar. Of the 259 men on board, 189 lost their lives in New Zealand's worst maritime disaster.
KIWI OF THE WEEK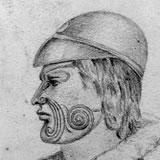 Hōne Heke
? - 1850
Ngāpuhi chief Hōne Heke was an influential northern Māori voice in favour of the Treaty of Waitangi. However, he later became a leading opponent of British rule in New Zealand.
The First World War had a seismic impact on New Zealand, reshaping the country's perception of itself and its place in the world.
Women's Suffrage Petition
The 1893 Women's suffrage petition — signed by more than 25,000 women, about a fifth of the enture adult European female population — helped pave the way for the passage of New Zealand's world-leading Electoral Act in September 1893.
See the digitised version of the petition
Memorials Register
Find exact locations and further information for more than 900 memorials throughout New Zealand.
Explore the memorials