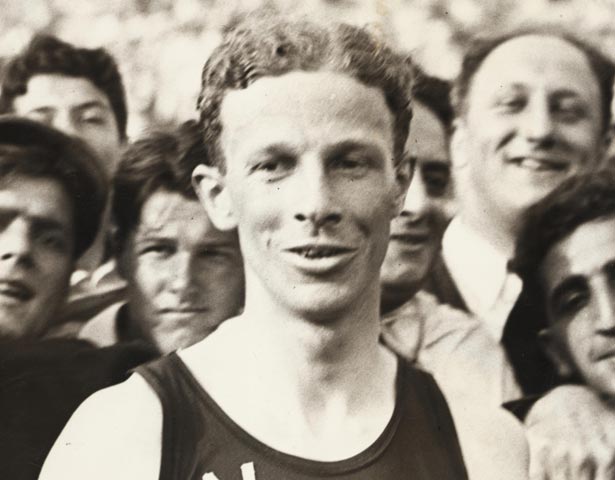 Jack Lovelock led a remarkably full life before his death, just a few days shy of his 40th birthday, on 28 December 1949.
He is remembered in New Zealand and abroad largely for his athletic achievements, especially his dramatic finish in the 1500 metres at the 1936 Berlin Olympics, which won New Zealand its first athletics gold medal. But Lovelock also achieved academically, forged a successful medical career and was a husband and father of two.
The Lovelock legend
Lovelock's achievements and untimely death at the age of 39 have captured the imagination of New Zealanders and others. Streets, playing fields and sports bars have been named after him. He has inspired books, stamps, a stage play and a film. In 2002 a statue was erected at Timaru Boys' High, where much of the memorabilia related to him is stored.
From his early days at school Lovelock participated and excelled in fields beyond athletics. At Fairlie School (1919-23) he was dux of the primary school, represented the school in rugby, competed in swimming and athletics, and was a prefect. At Timaru Boys' High School, which he attended as a boarder from 1924, he set school athletics records but was also involved 'in nearly every area of school life'. In 1928, his final year, Lovelock was school dux, head prefect, and won the school's boxing championship cup. The following year he went to Otago University to study medicine. He again impressed and, after he had been at the University for less than two years, was nominated for the Rhodes Scholarship. He was awarded the scholarship and attended Exeter College, Oxford, from 1931 to 1934.
Lovelock would undoubtedly have performed better academically at Exeter if it wasn't for his busy athletics schedule. While studying there he broke the British mile record (1932), competed in the 1932 Olympics, set a world mile record (1933) and won gold at the 1934 Empire Games. He was also involved in other activities, including boxing and debating. While the college recognised his all-round achievement with the Quarrel Read prize in 1933, Lovelock still expressed disappointment at his academic performance. When he was awarded third-class honours for his BA in physiology (1934), he noted that most Rhodes Scholars achieved at least second class.
He continued to balance competing demands when he began the clinical component of his medical training at St Mary's Hospital, Paddington, in October 1934. During this time he won the 'Mile of the Century' at Princeton and the 1500-m gold at Berlin. But by 1936 the physical and financial strain of competing while completing his medical training was starting to tell. In a letter to Harry Amos, secretary of the NZ Olympic Games Association, Lovelock commented that 'big competitive sport has become such a specialised game that it is almost a full-time job and is certainly incompatible with medical work.'
Lovelock was also struggling with his own medical issues during this period, having suffered knee problems since 1933. Two months after his Olympic success he competed in another 'Mile of the Century', finishing second to 19-year-old Archie San Romani. It would be his last major race.
His medical problems continued after he retired. In 1940 and 1941 he suffered a series of head injuries. The best documented was caused by a fall from a horse in September 1940, which left him unconscious for at least two days. Dizziness and eyesight problems continued to affect his life and may ultimately have contributed to his death.
In 1945 Lovelock finally married Cynthia Wells James, an American whom he had met in England probably late in 1937. Their long engagement was no doubt influenced by Lovelock's schedule, financial position and the outbreak of war in 1939. In December 1947 they and their infant daughter, Mary, moved to the United States. Lovelock took up a position at the Hospital for Special Surgery in Manhattan, working in rehabilitative medicine. Their second daughter, Janet, was born in 1948.
Dedicated to the end, Lovelock went to work early on 28 December 1949, despite being unwell. At 9.30 a.m. the secretary of his department rang his wife to say he was returning home. While waiting at the Church Avenue subway station Lovelock fell beneath a train and was killed instantly.
By Imelda Bargas
Further information
Norman Harris, The legend of Lovelock, A H & A W Reed, Wellington, 1964
Dr Graeme Woodfield, Jack Lovelock: athlete and doctor, Trio Books Ltd, Wellington, 2007
David Colquhoun (ed),

As If Running on Air: The Journals of Jack Lovelock,

Wellington, 2008
How to cite this page
'Jack Lovelock', URL: http://www.nzhistory.net.nz/people/jack-lovelock, (Ministry for Culture and Heritage), updated 22-Aug-2014