Where did they go to?
British-born population living in New Zealand provinces in 1871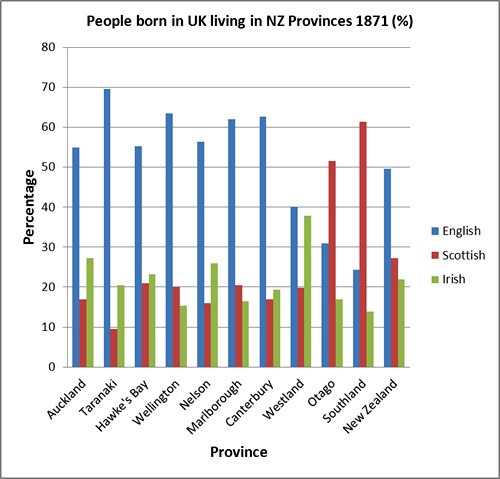 English
Scottish
Irish
Auckland
54.9%
17%
27.2%
Taranaki
69.6%
9.5%
20.5%
Hawke's Bay
55.2%
20.9%
23.2%
Wellington
63.5%
20%
15.4%
Nelson
56.4%
15.9%
25.9%
Marlborough
62.1%
20.4%
16.4%
Canterbury
62.7%
16.9%
19.4%
Westland
40.1%
19.9%
37.9%
Otago
31%
51.5%
16.9%
Southland
24.4%
61.4%
13.9%
New Zealand
49.7%
27.3%
22%
*The Welsh have not been included in these figures as they made up less than 2% of the population of any province
The table and graph suggest:
There was strong regional variation within New Zealand as to where different groups settled.
In the 19th century Wellington and Canterbury provinces were dominated by the English. This in part reflects their New Zealand Company origins.
Auckland had a strong representation from Ireland which reflected partly the influence of the early military settlers and partly the free migration of Irish across the Tasman to Auckland.
Westland also had a large number of people from Ireland. Many of these were miners who had migrated across the Tasman from the Victorian gold fields to the West Coast gold rushes.
Otago and Southland had a majority of British immigrants who came from Scotland. Again this reflected the character of the first organised settlement.